The Haus of Gloi, U.S. purveyors of yummy, heady, fresh, and thoughtful vegan bath and body care, yanked me in once more…hook, line, and sinker.  This time, my hands and feet may seek a chaser.
"But I don't drink to get drunk" says Julia.  "How bout some buzz for your body then?" retorts the green Absinthe fairy.
Before I copy-paste Wikipedia lines to keep your Absinthe questions at bay (kidding, I won't, I'll be proper and paraphrase) I'll supply something more interesting.  If you don't know what Absinthe is let me show you this movie scene you may or may not remember.
Absinthe is a strong green alcoholic spirit (I know, sounds bad-ass dunnit?) that has a deep and interesting French background.  It has an herbal taste inclusive of the flowers and leaves of Wormwood (no not that worm) combined with green anise and sweet fennel.  The drink also has a hot-cool or menthol like burn if you will, when you swallow it, yes I have tried it, and is served optionally decked with a sassy sugar cube and lit to a flame.
In the past Absinthe has been exaggerated repeatedly to have pyschoactive effects on those who drink it, apart from the effects of alcohol, but the truth has been stretched to feed the hype surrounding this pretty powerful green drink and tales of the green Absinthe fairy's spell have inspired much art among artists.  I find this painting by Albert Maignans, while severely contrary to my beliefs morally, to be actually quite aesthetically pleasing and excellently rendered during that artistic age in the late 19th to early 20th century.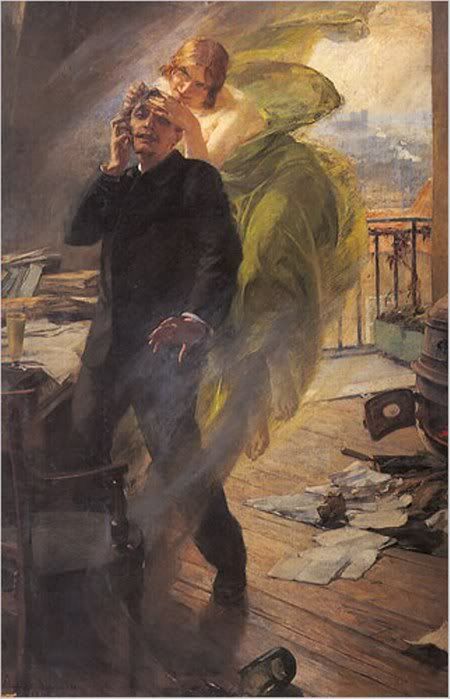 I don't believe in getting drunk, because the Bible rejects it repeatedly and says to stay sober and maintain a sound mind.  I don't mind having a few drinks occasionally to celebrate a good time with friends and family.  Continue reading to see this Bubbling Scrub in action and my thoughts on it!!
I'd much prefer that my hands and feet get the buzz instead from this delightfully minty and not particularly alcoholic Absinthe bubbling scrub by Haus of Gloi.  The texture of a Haus of Gloi bubbling scrub is like that of compressed but non sticky sugar.
What's interesting about the bubbling scrub is it's a scrub that foams up, and for me anything that foams up is a bigger delight to rinse off.
I can't wait to try this out as a foot scrub.  Its absoutely perfect for that.  The heady but not nauseating scent of mint, anise and sugar make scrubbing away a joy, and it's so hard to explain but my hands were unusually but pleasantly soft afterwards, and not in some moist-sitting-on-top-of-your skin way, more like in a natural, supple way…FEET COME ON UP!  Here is the exact description of Absinthe direct from the Haus:
FRAGRANCE:
Hauntingly herbal. Wormwood and anise swim in a creamy green sea of lemon balm and soft glowing mints. A hefty lump of sugar and the tiniest drop of suggestive deep green moss.
APPLICATION:
Apply to wet skin and massage into skin using circular motions. This is a water activated product and works best when vigorously lathered. I do not recommend this product for the face.
I blogged about Haus of Gloi for the first time about almost two months ago right here,  in case you're curious to know more about the husband and wife behind this wonderfully small but glee-giving business.  Haus of Gloi Absinthe is not limited edition and is part of their permanent scent menu.  The 20z Bubbling Scrub I purchased cost $3.50 apart from shipping.  Please check out their website at HausofGloi.com for any other questions 🙂